$0.00
Dare to Shine Angel • Mala
Customer Reviews
Write a Review
Ask a Question
21 Mar 2023
Giovanna R.

Italy
wonderful connection
since I received the mala, I have never been separated from him, he gives me joy and fills my heart just looking at him, he is beautiful and I feel a deep connection with him. Thanks Giovanna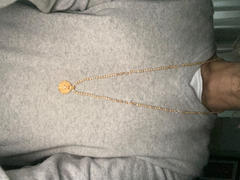 23 Jan 2023
Anonymous

United States
So beautiful, I burst into tears!!!
I've purchased gifts for friends from Ananda Soul in the past...such meaningful gifts, which they have loved so very much. This was the first time I purchased something for myself. Upon opening it, I literally burst into tears. The beauty of the piece took my breath away. And then thinking of the women who created it. overwhelmed me. I love it so much. Thank you.
30 Dec 2022
Kirsty J.

United Kingdom
Beautiful Mala.
I was gifted this beautiful sacred piece of jewellery from my beloved husband and I know it will give me hours of joy being adorned by it!